Industrial Steel Straight Strip Brushes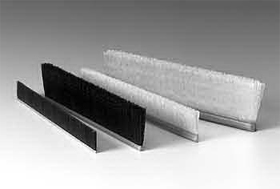 Straight strip brushes are the most common of the metal channel industrial brushes that Carolina Brush manufactures. Our straight strip brushes come in a multitude of sizes and densities. They can be formed into coil brushes, cup brushes, disc brushes (external and inverted), helixed/helical strips, arcs or curved industrial brushes. Strip brushes are very versatile and are designed with bristles that are attached to a U-shaped metal channel and to a center retaining wire.
Straight strips are used individually or in multiples and may be mounted on flat surfaces using aluminum and stainless steel holders that we supply as well.
Metal Strip & Channel Brush Applications
Typical applications for straight strips include splash curtains, drag or sweep type conveyor cleaners, tensioning devices, static dissipating, paint booth and conveyor-side seals and product hold-down devices. They are also commonly used in deburring, cleaning, scrubbing, dusting, spreading liquids and powders, polishing, and static dissipation. Strip Brush Design Options Because of the versatility of Strip Brushes in their applications, there is no end to the different combinations between bristle materials with channels. Some of these can include:
Brass
Nylon
Stainless Steel
Polypropylene
Tampico
Our specialty is providing brush solutions for a broad range of manufacturing problems. We've been doing it for 100 years. Whether it's a custom-designed brush for your special application or OEM replacement, or one of our in-stock designs, we have the experience to handle the most challenging industrial or maintenance applications. See all of our custom strip brush options or give us a call today to talk about your specific strip brush needs.
See all of our custom strip brush options.
METAL CHANNEL INFORMATION
METAL
CHANNEL
SIZE
METAL CHANNEL
Width X Height
(Approximate)
CENTER WIRE DIAMETER
ALUMINUM CHANNEL
GALVANIZED STEEL CHANNEL
STAINLESS STEEL CHANNEL
FLAT
OVAL
#2
0.094" X 0.110"
.025" dia
XXX
XXX
#2.5
0.125" X 0.125"
.031" dia
XXX
XXX
XXX
#3
0.156" X 0.156"
.041" dia
XXX
XXX
XXX
#4
0.187" X 0.187"
.045" dia
XXX
XXX
XXX
XXX
#5
0.218" X 0.250"
.062" dia
XXX
XXX
XXX
XXX
#6
0.234" X 0.343"
.062" dia
XXX
XXX
XXX
#7
0.312" X 0.312"
.080" dia
XXX
XXX
XXX
XXX
XXX
#8
0.328" X 0.375"
.080" dia
XXX
XXX
#10
0.437" X 0.437"
.105" dia
XXX
XXX
XXX